Tottenham
The stunning £50m signing Spurs will replace Harry Kane with – according to Football Manager
Football Manager predicts how one big money signing will fare after replacing Harry Kane at Tottenham Hotspur.
How do Tottenham Hotspur replace their all-time record goalscorer and a man many consider to be one of the greatest strikers in Premier League history?
Harry Kane's focus is now on helping Bayern Munich to success at home and in Europe after he completed a reported £100million move to the Bundesliga giants over the weekend. Of course, as we all know, Kane's time in Germany got off to a negative start after his new side were beaten in their Super Cup clash with RB Leipzig just hours after he had put pen to paper.
Spurs kicked off the post-Kane era with a hard-earned 2-2 draw with Brentford on Sunday afternoon as goals from Cristian Romero and Emerson helped Ange Postecoglou claim a share of the spoils in the first game of his managerial reign. But the need for a replacement for Kane was all too evident throughout the game and it seems likely the former Celtic manager will move into the transfer market to bring in a striker over the coming weeks.
But who could replace the England captain? We fired up Football Manager 2023 as the world's most popular managerial simulation to determine this, and it decreed that the virtual Ange would complete a big money move for none other than Juventus striker Dusan Vlahovic – and here is how he fared in his first season in north London.
An impressive start to life with Spurs
Every striker dreams of the perfect start to life at a new club and Vlahovic certainly achieved that, as he put in a man of the match performance and grabbed the only goal of a win at Nottingham Forest. After then drawing a blank in a 1-1 home draw with Wolves, the Spurs new boy then bagged a goal and an assist in a 2-0 win over Newcastle United – and better was to come as Vlahovic made it three goals in five games when he fired home an early penalty in a 2-2 home draw with Brighton and Hove Albion.
The momentum builds – and then is curtailed!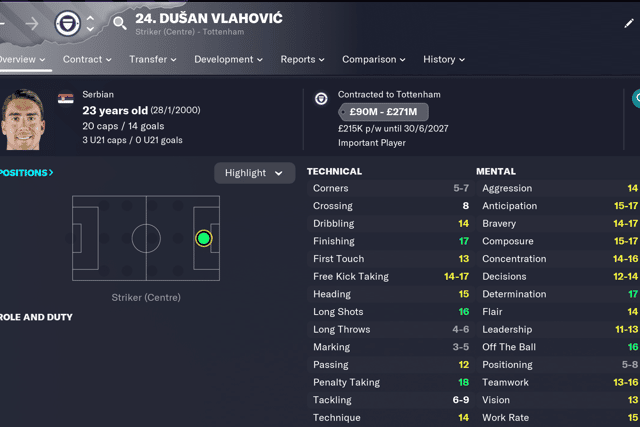 Vlahovic continued to impress during the second month of the season as he produced a powerful header beyond Allison to help Spurs to a famous win at Liverpool and that was followed by another striker in a 2-0 home win against Aston Villa.
However, September ends on a negative note for Vlahovic and his side after the striker suffered a calf injury in a 1-0 defeat at West Ham United and spent the next three weeks on the sidelines. Alas, how very Spursy.
Returning in fine style
It was almost like he had never been away! Vlahovic returned to the Spurs squad for a home game against Crystal Palace in mid-October and he marked his return with a brace in a 3-0 win for Ange Postecoglou's men. He continued to work his way into the hearts of the Spurs faithful after netting from the penalty spot in a 2-1 home win over fierce north London rivals Arsenal before grabbing a late equaliser as his side battled back from two goals down to claim a draw at Chelsea.
Another injury blow!
There was a major setback for Vlahovic at the start of November when another calf injury – this time suffered in training – ruled him out of action until the new year, meaning his missed eight league games.
But once again, he returned with a goal in a 1-0 home win against Brentford on New Years Day before the striker netted another goal against the Bees in an FA Cup third round tie. That was followed by mixed fortunes at the end of January as Vlahovic missed a penalty in a fourth round draw at Burnley before he struck home the winning goal in a 2-1 win at treble winners Manchester City.
Confidence drains
That famous strike at the Etihad should have heralded the start of a strong run of form – but what played out could not have been more of a contrast as the Serbian striker failed to find the net in his next eight games in all competitions.
That run of 'form' actually led to Vlahovic being dropped to the bench as his side crashed out of the FA Cup with a fifth round defeat at Championship club Sunderland and slide out of the European places after suffering Premier League defeats at the hands of Everton, Manchester United and Aston Villa.
A return to European competition is secured – but Vlahovic makes little impact!
A striker did make a huge impact as Spurs recovered from their dip in form and secured a place in the Europa League with a sixth place finish – but it was Richarlison that came to the fore as Vlahovic remained out of favour.
Despite grabbing a goal as a substitute in a home draw with Liverpool, Vlahovic struggled for game-time and that allowed the Brazilian striker to net five goals in the final five games of the season to bring an underwhelming end to a campaign that promised so much for Spurs' £50million man.
A return of 15 goals in 38 appearances was a solid return for Vlahovic in his first season in North London – but there seemed more negatives than positives for the former Juventus man.