Fulham
The £50m daring swoop that could see Fulham follow in Brighton's European footsteps
The Cottagers have been touted as admirers of Arsenal striker Folarin Balogun
Aleksandar Mitrovic vowed that he would never play for Fulham again. It was a promise he kept for all of 58 minutes. On Saturday afternoon, the bulky Serbian was benched by manager Marco Silva for his side's Premier League opener against Everton amid a slew of speculation about his future in west London. Less than an hour of playing time later, and he was introduced to the fray – like some brooding toffee hammer – as the Cottagers tried to puzzle out a way of cracking their hosts' resolve.
If reports are to be believed, even in spite of his Goodison Park cameo, the working relationship between Mitrovic and Fulham is not a sustainable one. The striker is understood to be a target for Saudi outfit Al-Hilal – the club who recently lured Neymar to the Middle East by jangling the keys to a 25-bedroom mansion in front of him like a property developing toddler – and the expectation is that an agreement will be reached sooner rather than later.
That, then, would leave Fulham with something of a void to fill. Already this summer, the Cottagers have signed Raul Jimenez from Wolves, but after a relatively barren turn at Molineux last season, there are question marks over whether or not he can provide the goals they need to properly build on the encouraging foundation they laid during their recent top flight return. Aside from the Mexican, Silva's only real alternatives up front – assuming Mitro does depart – are Brazilian duo Rodrigo Muniz and Carlos Vinicius; the former spent the 2022/23 campaign on loan with Middlesbrough, and the latter could only muster five goals in 34 outings across all competitions during the same spell. Evidently, a striker is needed.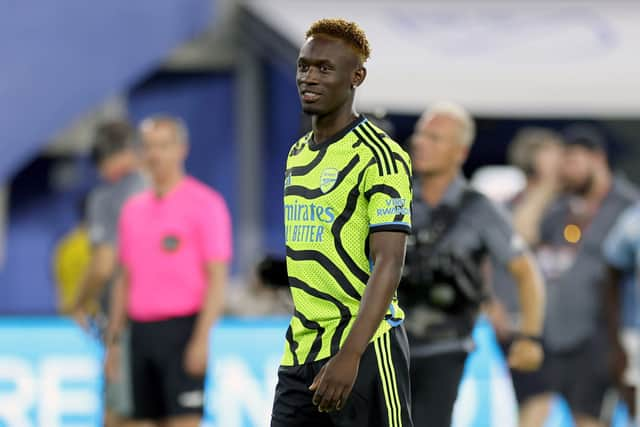 Which brings us to Folarin Balogun, the wantaway Arsenal prospect who electrified French football last term, and who is said to be catching the eye of those in the boardroom at Craven Cottage. According to the Daily Mail, Fulham are considering a bid for the 22-year-old in the event(uality) of Mitrovic's exit, and even in spite of his hefty price tag. Depending on who you ask, the striker is valued at somewhere between £40 to 50 million.
Obviously, that is a lot of money, but then again, Balogun boasts a lot of potential. Last season, during a loan stint with Stade de Reims – they of Will Still fame – he netted 22 times across all competitions, and in the period since, has been linked with everyone from RB Leipzig to Inter Milan. He has also committed his future to the USMNT and is now a regular senior USA international, and there is an argument to be made for Arsenal asking for no more than is justifiable – especially when you consider the sweltering climate of the current transfer market. Manchester United, after all, have just spent £72 million on Rasmus Hojlund – a player who registered six strikes fewer than Balogun last term.
From a Fulham perspective, the Hale End academy graduate would offer not just a goal threat, but a talent who could grow in line with the club's own ambitions. You would imagine that the aim for this season, conservative as it may seem, is to consolidate a hard-won Premier League status. After that, however, who can say? Why can't Fulham follow the recent examples set by clubs like Brentford or Brighton and seek frequent top-half finishes, or European qualification, even?
If his time in France is anything to go by, then Balogun is only just getting started. You suspect that were it not for the player's own desire to seek out first team opportunities elsewhere, Arsenal would be quite happy to integrate him into their plans this season. If nothing else, their valuation speaks volumes as to just how highly he is rated by his boyhood side. Fulham, in short, could do far, far worse.
Ordinarily, a fee upwards of £40 million would feel fairly astronomical for a club like the Cottagers, but the widespread suggestion is that Al-Hilal's latest offer for Mitrovic comes in at around £46 million. Worst case scenario, Fulham might have to cough up a little extra to get a deal for Balogun over the line. If they're smart, and if they can drive Arsenal down a touch at the negotiation table, that lump sum may even cover the cost entirely.
Of course, this would be a deal with a touch of risk attached. Balogun, after all, has just 70 minutes of Premier League football to his name at the time of writing. But think of it this way, if we were talking about any other 22-year-old who had systematically tore apart one of Europe's strongest leagues last season, outscoring the likes of Lionel Messi and Neymar in the process, would there be as much trepidation about taking a punt on him? The answer, in all likelihood, is no.
Fulham, if they're serious, could sign Balogun this summer, and in doing so, make a real statement about the trajectory that they see their future taking.