Uncategorized
Richarlison reveals his bitter ordeal with former boss Antonio Conte: hoping for a better time under Ange
Richarlison claims former Tottenham boss Antonio Conte 'scolded him in front of the squad for TWO HOURS' after the striker's rant about his 's*** season' because of a lack of gametime
Richarlison claims former Tottenham boss Antonio Conte 'once scolded him for two hours'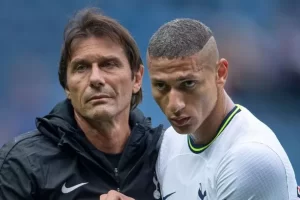 Tottenham forward Richarlison has claimed Antonio Conte 'scolded him for two hours' after Spurs were knocked out of the Champions League by AC Milan.
The 26-year-old gave an explosive interview after the game saying his season had been 's***' due to his 'lack of minutes' and insisting he should have started after appearing only as a late substitute.
 Conte labelled him 'selfish' the next day, and left the club two months later after an extraordinary rant to the press following a 3-3 draw with Southampton
It seems similar rants took place in the dressing room, as Richarlison told the Que Papinho podcast: 'I made a mistake for doing an interview saying I needed [game] time.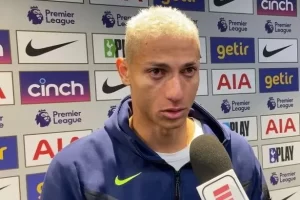 'Later on, I apologised and said that he could punish me. He told me off to show he was the commandant. It's his way to deal with it. Almost two hours scolding me in front of everybody there.'
 The incident came in a tough season for the Brazilian that saw him score just one Premier League goal In 27 appearances.
He shone for Brazil at the Qatar World Cup, but failed to have much of an impact for his club side as Spurs finished outside of the European places in eighth.
New boss Ange Postecoglou will be hoping to get more out of the striker, who has himself admitted he needs to improve if he is to secure his dream move.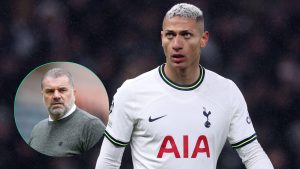 'Of course, Real Madrid is the biggest club in the world and every player wants to wear their shirt,' Richarlison told reporters last month.
'But I have a club, a contract — I have to prove why Tottenham bought me for a high price. But any player dreams of playing for Real Madrid'.
One of the key factors in reduced Richarlison's game time last season was Harry Kane's remarkable form.
He scored 30 goals in a struggling side, but could be on the move this summer after new Chelsea boss Mauricio Pochettino refused to rule out a move for the England captain.
Bayern Munich are also interested, but may struggle to agree a deal after angering Daniel Levy by contacting Kane behind his back.